The main characteristics of this new series of tap changers are:
Speed of installation
Speed of movement
Correct positioning after each tap change
Compact size
Self adjusting (within the design range) to the thickness of the transformer tank cover
This series is suitable for use in mineral oil or silicone liquid filled transformer.There is no need for washers during assembly because the tap changer adjusts itself according to the thickness of the transformer tank cover.Oil tightness is provided by O-rings. Tap Changers are available in standard types or custom made designs.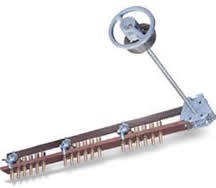 The Structure and Materials
The Fixed contacts are mounted on one of the two parallel insulating plates perpendicular to the support. The other moveable plate are mounted with the sliding contacts. The fixed plate is screwed to the support. The other moveable plate slides on the support using a rotating gear fastened to the shaft.
Fixed contacts are made of copper with the following inside diameters:
f = 2.1 mm for 10A rated
f = 3.1 mm for 30A rated
f = 5.1 mm for 60A rated
Conductors coming from the coils are crimped onto the copper tubes. If they are soldered, care must be taken not to damage the insulation. Mobile contacts are made of brass. Metal parts are made of corrosion-proof materials. On request all metal parts may be made of stainless steel. The other elements that compose the tap changer are made of polyamide reinforced with glass fibres. The insulating plates are made of premium quality phenolic resin. An aluminium alloy knob protection kit may be furnished upon request (optional).
Technical Specifications
Two voltage classes are available:
Rated
Voltage

Max
Voltage
Test

Voltage to ground
(According to IEC 214 and
CEI 14-10 Standards)

Power freq.
50/60 Hz

BIL 1.2/50 ms

kV

kV

kV

kV

20

24

50

125

30

36

70

170
Three current ratings are available:
Tests:
The tap changer have undergone testing at CESI labs in accordance with IEC 210 and CEI 14-10 Standards:
test of resistance to short circuit current;
test of overtemperature limits;
seal test at standardized atmospheric pulse (1.2/50ms);
dry seal test at industrial frequency (50Hz).
Typical Model for Single-Phase Pawl Adjustment Off-Load Tap Changer(TCC MS-SA):
20kV and 30kV
10A, 30A and 60A
from 3 to 7 positions
2.5% adjustment per position
Typical Model for Three Phase Pawl Adjustment Off-Load Tap Changer (TCC TS-SA):
20kV and 30kV
10A, 30A and 60A
from 3 to 7 positions
regulation 2.5% per position
or connection